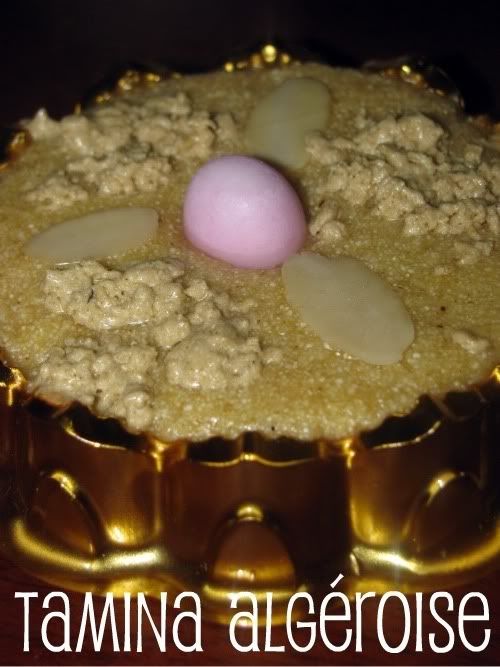 Greetings all my friends in the Blogosphere!
In celebration of my son Ibrahim's birth the famous traditional Algerian tamina was of course omni-presnt.

Here in Algeria, tamina ... also spelled tomina or tammina is an ancient recipe a specialty of eastern Algeria.
But each region has its special way of preparing and presenting tamina.
And in the region of Oran, there is another version of this sweet called
Taknetta using ground ginger.
How to prepare it is almost similar but the tastes and textures are different. It is served at all religious festivals such as the Mawlid (celebration of the Prophet Mohammed's birthdate ... some celebrate this; we do not) and also happy events such as births and circumcisions.

Now I am sure you are wondering what is tamina?
It is an interesting and dangerously delicious dessert that can not be called a cake nor a pudding ... rather more like a spoon sweet ... something rather unique. To me it tastes rather like a honeyed sandy, nutty graham cracker! It is made of toasted medium grain semolina or wheat flour (flour is durum wheat toasted and then ground fine and sifted) and butter and honey.
Tamina is also given also to restore strength to the new mother after giving birth ... but to also foster production of her milk. Although, I think this is only an old wives' tale.

It is certainly very caloric.

I agree that calories matter, it's terrible, it has taken me a few years toaquire the taste for its very sweetness ... now the problem is that when you take spoon you can not stop ...
Fortunately we are not invited for every day of birth but this time it's me who prepares it almost every week!
Other dishes served to the new mother is
khbouz ifter (click here),
berkoukes
, fried or chermoula liver and dates.
It has taken me a few trails to prefect the taste of my tamina ... I have found the secret is how long you roast the semoule (the longer the better - but do not burn it!) And using real butter ... and more of it gives it the nice taste!
Tamina, is usually prepared in huge batches for large crowds of people, but here today I just present the basic formula for preparing tamina ... so you can prepare a small or a large batch.



Tamina Algéroise
2 measure of semoule moyenne - medium grain semolina ( my one 1 measure = 250g OR 1 CUP)

1 tsp Hrour spice mixture or cinnamon
- some tradtional and not tradtional optional flavourings to add:
1/4 cup Turk halva per 2 measures of semolina

1 TBS ma'zair (orange blossom water) per 2 cups semolina

few drops of almond or hazelnut essence

chopped nut of your choice inside the Tamina or as decor

desicated coconut and its essence, inside or as decor

even little melted chocolate - not too much thou



In a large pan without any fat, divide the semolina into smaller, more manageble portions, I would roast more then 2cups of semolina at all time for optimal toasting.

Roast the semolina on the lowest heat possible, stirring often with wooden spoon. Much like risotto, you need to constantly stir the semolina, so all the grains get toasted not burnt!

Toast until it reaches a golden color. This may take several minutes ... plz again watch the grains so they do not burn. You will smell a very nice nutty aroma from the semoule as it roasts, then you will know it is done!

Remove from heat and spread out on a large sheet pan, so it cools quickly, without further toasting.

Repeat with the rest of the semolina, until you have toasted all of it.

Then m

elt in a saucepan the butter, honey with water, orange blossom and pour over the semoule. (Also now add the other flavouring if you are using them. I have found Turk halva gives the better, most interesting flavour ... almost like a bit of something nutty, almost peanuty in the tamina)

Mix well and allow to almost come to a boil.

Then spoon into

individual plates by spooning or pouring the still hot tamina into the plates.

Decorate as you like with cinnamon, Turk Halva, sugar pearls, edibles decors, draguees, coconut, nuts; etc.
Trick:
Tamina is tradtional served in flat small dessert plates like below ... but I find it rather nice to serve them in small bowls or even glasses ... like a Martini style glass for extra appealing look.
Also layering the tamina in a glass, alternating the layers tamina, Turk Halva, coconut, nuts, etc is very eye appealing too!
Tamina is rather similar to the another Algerian sweet made in the eastern part of the country called Rfiss (semolina and date mixture) and also the browned spiced flour Moroccan dish Sellou ... both similar preparation but different ingredients and amounts. I may do them in the future.