Greetings friends!
Generally people in the summertime wouldn't think to eat soup in hot weather. But not me! I love soups in the summer at room temperature. They are easy to make with little fuss yet pack a punch in flavour! This soup happen to come about, when one day we were out and about, then when we were home, in a very big rush to get something out to the family for dinner; I looked in the refrigator to see what we had ... then throw together what I had on hand. It was good the first time ... but after a few tweaks ... Viola a real winner was born! I thought I post this since Ramadan is just around the corner ... and everyone eats soup during Ramadan!
Also very good way to make unattractive, mediorce looking yet tasty tomatoes into something special.
Chourba harissa tomatich
1 small onion, grated
2 garlic cloves, minced
1TBS ground cumin
1 TBS harissa
1 chicken or veg bouillon
1 bay leaf
6TBS tomato puree
3 tomatoes, halved
1 TBS flour
2 cups of water
1/2 cup heavy creme
sprig of fresh thyme
pinch or two of basil
1/4 cup of pasta
handful fresh cilantro, rough chopped
salt/black pepper/olive oil
To roast the tomato:
Preheat oven.
Cut the tomatoes, then toss the tomatoes in a large bowl with basil, salt, pepper and olive oil. Then arrange tomatoes on oil baking dish.
Bake for 1 hour and 10 minutes or until golden. Then cool.
Then puree for the soup.
Now prepare the soup:
Heat the oil in a saucepan and cook the onion gently until soft but not coloured.
Add the garlic and cumin cook for 30 seconds then add the harissa and tomato puree and fry for 1 minute.
Add the roasted tomatoes, galic, thyme, sugar and stock.
Season and bring to the boil then cook gently in the simmering oven for 20 minutes.
Then stir in slowly the heavy cream. And bring slowly back to boil.
Once boiling add in the couscous.
Season again once the pasta is cooked.
This soup tastes excellent with
Bourek Algéroise
or croutons topped with a little tapenade or
Khoubz el Dar b'zeitoun
(Algerian olive bread)
recipe coming soon!
Généralement, les gens en été ne seraient pas penser à manger de la soupe dans un climat chaud. Mais pas moi! J'aime les soupes de l'été à la température ambiante. Ils sont faciles à faire avec peu d'agitation encore emballer un poinçon en saveur! Cette soupe arriver à se produire, quand un jour nous étions dehors et environ, puis quand nous étions chez nous, dans une course très importante pour obtenir quelque chose à la famille pour le dîner; j'ai regardé dans le refrigator pour voir ce que nous avions ... puis jeter ensemble ce que j'avais sous la main. Il était bon la première fois ... mais après quelques réglages ... Viola un vrai gagnant est né! Aussi très bon moyen de faire sans attrait, mediorce cherche encore tomates savoureuses en quelque chose de spécial.
• 1 petit oignon, râpé
• 2 gousses d'ail, hachées
• 1 cuillère cumin moulu
• 1 cuillère harissa
• 1 Bouillon de poulet ou légumes
• 1 feuille de laurier
• 6 cuillère purée de tomates
• 3 tomates, coupées en deux
• une cuillère farine
• 2 tasses d'eau
• 1 / 2 tasse de crème lourde
• brin de thym frais
• pincée ou deux de basilic
• 1 / 4 tasse de pâtes
• poignée de coriandre fraîche, hachée
• sel / poivre noir / huile d'olive
Pour rôtir les tomates:
1. Préchauffer le four.
2. Couper les tomates, puis mélanger les tomates dans un grand bol avec le basilic, sel, poivre et huile d'olive. Puis disposez les tomates sur un plat de cuisson d'huile.
3. Cuire au four pendant 1 heure et 10 minutes ou jusqu'à doré. Puis laisser refroidir.
Maintenant, préparez la soupe:
1. Chauffer l'huile dans une casserole et faire cuire doucement l'oignon jusqu'à tendreté, mais pas de couleur.
2. Ajouter l'ail et cuire le cumin pendant 30 secondes puis ajoutez la harissa et la purée de tomate et faire revenir pendant 1 minute.
3. Ajouter les tomates grillées, ail, le thym, le sucre et le bouillon.
4. Assaisonner et porter à ébullition puis faire cuire doucement dans le four à mijoter pendant 20 minutes.
5. Incorporez lentement la crème épaisse. Et apportez lentement à ébullition.
6. Une fois bouillante ajouter le couscous.
7. Saison nouveau une fois que les pâtes sont cuites.
Cette soupe goûts excellents avec
Bourek Algéroise
ou croûtons garnis de tapenade ou peu
Khoubz Dar el b'zeitoun
(Algérie pain aux olives)
recette
à venir
bientôt!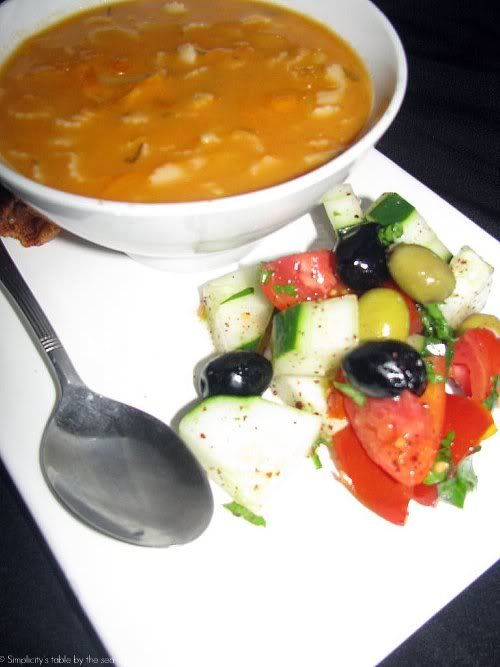 All content, including images, recipes and written stories, even ones not yet watermarked are the exclusive property of Simplicity's table by the sea. Please feel free to copy for personal use. But please do not republish any content from this site, without the premission. And credit and direct link to the site and orginal post.
Please give credit where credit is due!
All rights reserved.
Thank you for your consideration and as always I pray your table is surrounded by warmth of the sun, food, laughter, family and fun!