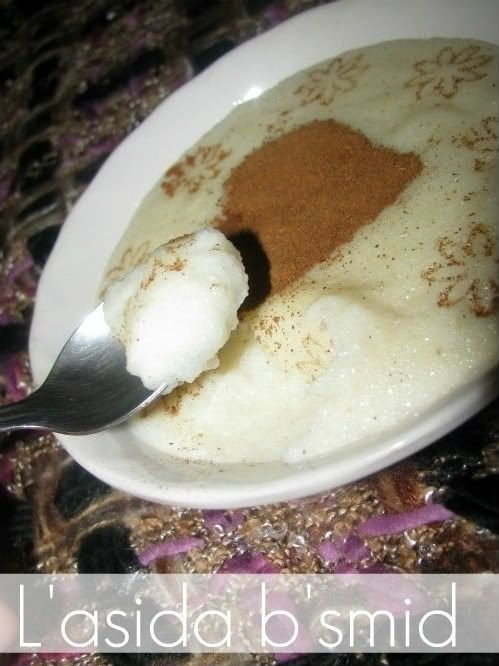 Greetings friends!
It is amazing how many ways there are to start a day. I am forever indebted to the French: coffee and croissant provide both kick and indulgence. Once in a blue moon I allow myself a guilty pleasure of English traditional. Quite often I get a craving for Beghrir, palacsinta/crepes, or even oatmeal.
After all breakfast means "breaking the fast", returning from abstinence to the world of palate pleasures.
Today, I would like to share with you a very traditional and humble porridge that I and many people in the Mediterranean grew up on ... in my home country it is called
Tejbe dara
or
tejbe papi
... but here in Algeria, where I live it's referred to as L'assida b'smid (porridge with semolina). Elsewhere in the Middle East it is referred to as Ma'mounia.
Âsidas of all types exsist here in North Africa. From the creamy puddings of Tunisia, to the more homey porrdiges of Libya and Algeria. Each region using its own flavourings.
Even though the ingredients and preparation of L'Âsida is extremely easy, it does deliver a great punch of flavour to the palate. It is a prefect nutritional cereal/pudding for you to prepare for your children - for breakfast and other times of the day.
When I go shopping, and I usually read food labels. And it shocks me to see the amount of salt, sugar and preservatives and chemicals that are in breakfast cereals, even baby food ... very undesirable and even appalling.
This is just one of those times (seems to be more and more of these times) that
Mama
did good by us!
And I have read several studies showing that children form dietary preferences by age two. Some children become "picky eaters" while others eat just about anything. How does this occur you may ask?
Is it nature, or nurture?
In my opinion - it's all up to mummy!
Especially in infancy, it is a crucial time to develop the 'taste' when children learn dietary habits that affect them throughout their life. A baby's diet experience at age 9 months may affect their risk for obesity later in life. And in this day and age of fast foods pumped with all the chemicals - we should in my humble opinion, actively teach our babies how to eat more healthy by offering them a dynamic range of flavorful foods early on.
So learn how to
eat
together!
L'assida bel smid
1/2 L milk
1/2 cup of water
1/4 – 1/3 cup semolina
vanilla or orange blossom water
cinnamon for decor
Heat milk and water in a heavy-bottomed saucepan.
When the milk starts to foam up, gently stir in the semolina with a whisk.
Cook for about 10 minutes, stirring continuously until the semolina grains are cooked.
Season the porridge with a little sugar and serve warm on plates decorated with cinnamon.
In Algeria, instead of sugar on top, honey and melted butter are the topping of choice.
When I was a child (older then 1 year) we would get our porridge on a flat plate. It would be sprinkled with sugar and cinnamon. And sometimes cocoa powder. We would drive our spoons along the edges scraping up the cooler porridge. Then impatiently dig roads through the thick porridge imagining they were roads on a mountain.
- For babies 7 months or older
, simply use water instead of milk and thin out the porridge to the right
consistency
. The semolina has a natural sweetness so no sugar is needed. Or is recommended for babies.
Alors que nous avons apprécié un été indien cette année, le mois plus froid ici en Algérie sont sur nous.
Alors le temps de commutation de salades fraîches à plus copieux, le remplissage et le réchauffement soupes, les bouillies, les ragoûts et les potages.
Aujourd'hui, je voudrais partager avec vous une bouillie très traditionnelle et humble que moi et beaucoup de gens dans la région méditerranéenne a grandi sur ...
dans mon pays il est appelé Tejbe Dara ou tejbe papi ...
mais ici, en Algérie, où j'habite on l'appelle comme L'assida b'smid (bouillie de semoule)
Assidas de tous les types exsist ici en la Grande Maghreb.
Du pudding crémeux de la Tunisie, à la plus intime des porrdiges Libye et l'Algérie.
Chaque région en utilisant ses propres arômes.
L'assida est un préfet de céréales alimentaires pour vous préparer pour vos enfants - pour le petit déjeuner et autres moments de la journée.
Quand je vais magasiner, et j'ai l'habitude de lire les étiquettes alimentaires.
Et il me choque de voir la quantité de sel, de sucre et de conservateurs et de produits chimiques qui sont dans les céréales petit déjeuner, aliments pour bébés, même ...
très indésirable et même épouvantable.
Ceci est juste un de ces moments (ce qui semble être de plus en plus de ces moments) que Mama a fait du bien par nous!
Et j'ai lu plusieurs études montrant que les enfants forment les préférences alimentaires par âge de deux ans.
Certains enfants deviennent "mangeurs difficiles», tandis que d'autres mangent à peu près tout.
Comment cela se produit vous pouvez demander?
Est-il la nature, ou acquis?
À mon avis - il est tout à Maman!
Surtout dans la petite enfance, il est un moment crucial pour développer le «goût» où les enfants apprennent les habitudes alimentaires qui les affectent durant toute leur vie.
Expérience de l'alimentation d'un bébé à l'âge de 9 mois peut affecter leur risque d'obésité plus tard dans la vie.
Et en ce jour et l'âge des fast-foods pompé avec tous les produits chimiques - on devrait à mon humble avis, activement enseigner à nos enfants comment manger plus sain en leur offrant une gamme dynamique d'aliments savoureux dès le début.
Alors apprenez à manger ensemble!
L'assida Bel Smid
• 1/2 L lait

• 1/2 tasse d'eau

• 1/4 - 1/3 de tasse de semoule
• à la vanille ou d'eau de fleur d'oranger
• la cannelle pour la décoration
1.
Chauffer le lait et l'eau dans une casserole à fond épais.
2.
Lorsque le lait commence à mousser, incorporer délicatement la semoule avec un fouet.

3.
Cuire environ 10 minutes, en remuant constamment jusqu'à ce que la semoule de céréales sont cuites.
Saison de la bouillie avec un peu de sucre et servir chaud sur des assiettes décorées avec de la cannelle.
En Algérie, au lieu du sucre sur le dessus, le miel et le beurre fondu sont la garniture de votre choix.
Quand j'étais un enfant (plus âgés, puis 1 an) nous obtiendrions de notre bouillie sur une plaque plane.
Il serait saupoudrée de sucre et de cannelle.
Et parfois, la poudre de cacao.
Nous voudrions conduire nos cuillères le long des bords grattant le refroidisseur du porridge.
Puis creusez avec impatience les routes à travers la bouillie épaisse imaginant qu'ils étaient sur une route de montagne.
- Pour les bébés 7 mois ou plus, utilisez simplement de l'eau au lieu du lait et éclaircir la bouillie à la bonne consistance.
La semoule a une douceur naturelle donc pas de sucre est nécessaire.
Ou est recommandé pour les bébés.