I like trying to find new ways to incoporate dates into our dialy meals. I've made date quickbreads, date milk, date smoothies, date pancakes, date milkshakes, Algerian date filled cookies called Maqrout, even a date sugar. But it seems there's endless ways to add dates into your diet. And why wouldn't you, there so healthy and not to mention Sunnah!
Several years ago, I posted about this lovely date bread after talking about over on Cusinetestee forum. Seeing as it's Ramadan, this little special bread finds it way back onto our suhour table. It's a really easy mix bread that packed with healthy ingredients like dates, honey, bran and sesame seeds. We love this bread on lazy weekends as an alternative to the usual brioche or crossiant. It's not too sweet or heavy. Appropriate for children, dieters and many diabetics alike (just adjust the sweetness level to your taste! Dates and honey are much healthier and digestable forms of sweet for the body! It works great for me, since as many of my friends know I am trying to get healthy and back into shape!
1 kg - 5 cups of whole wheat flour (depending on your flour you may need more)

750g - 3 cups barley flour

2 tablespoon of dry yeast

60g - 4 TBS of honey, or to taste

60g - 4 tablespoon date molasses, or to taste

Large pinch cinnamon

3 tablespoon orange blossom water

Enough warm water to make dough (for me about 250 ml - 1 cup)

Handful (or more) pitted and chopped dates

Bran (for coating the bottom)

Handful of Nigella and sesame seeds (or more)
FOR DECORATION & TOPPING:
Sesame seeds (decor)

1 Egg + little water for egg wash

Melted butter or oil (to coating the dough)
Sift flour to remove and debris. Pour into a large mixing bowl.

Form a well in the center of the bowl.

Mix in the orange flower water, chopped dates, and molasses in the bowl.

Gradually add enough warm water to form a paste

Knead the dough for about 5-10m.

Brush the dough with oil or melted butter

Allow to rise covered with kitchen towel for 45 minutes

Then knead the dough again.

Divide the dough into 20 balls

Now , flattened each ball into thindiscs

Coat the bottom of the dough balls in his or semolina.

Brush the top of the discs with egg wash, then sprinkle with sesame seeds

Place on a parchment lined or greased baking sheet.

Let rise, covered for 15 minutes.

Then bake at 200 degrees for 30 minutes until golden brown
Serve with coffee, tea or even milk for breakfast, brunch or suhour.
If you can not find molasses date, you can use carob molasses or black strap molasses. Or even make your syrup 250g dates dates by dipping in boiling 250 ml of water during the night. Then drain the date syrup in a cheesecloth.
Bran here in North African is known by the French name 'le son' or in Derdja as 'ghemkh' It can be purchased by weight in most shoppes that sell flour and semolina by weight.
Healthy, Breakfast, Suhour, Bread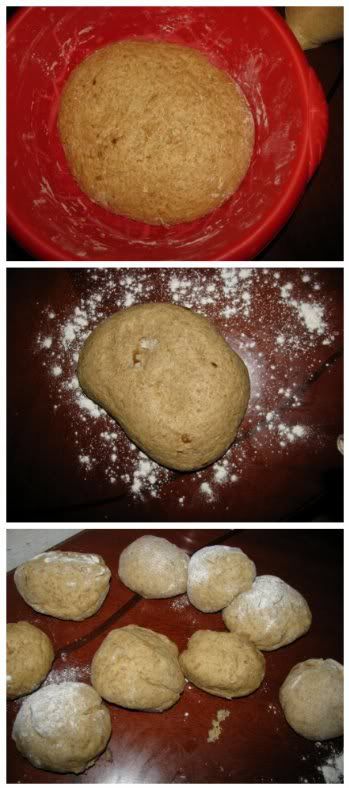 Follow my blog with Bloglovin