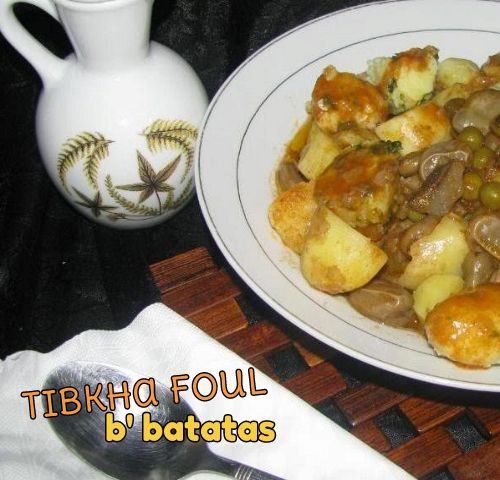 السلام عليكم Greetings friends!
- I invite you to follow me on social network FaceBook HERE
It is that time of year again, where it is windly, wet and harshly cold .... and even in some areas snowy. Yet, in my little corner of the Mediteranean a small hint of Spring come to our table. The season of Winter sweet peas, fava beans and artichokes has begun. And all who come to the markets donnot hestitie to buy and prepare warm ragouts and stews of these Spring vegetables! It is a must!
A squeeze of fresh lemon and a drizzle of rich olive oil and à la table! I leave you with this visual of this warm Algerian ragout ... !
Tbikha Foul b' batatas
Yield: 5-6 servings
Prep Time: 30 minutes (active) | Cook Time: 30 minutes
500g shelled fresh sweet peas
500g cleaned artichoke hearts
500g shelled fava beans
1 handful chopped cilantro/coriander (about ½ cup)
1 handful chopped parsely (about ½ cup)
handful of torn fresh mint leaves
4 cloves of garlic, minced
1 onion, chopped fine
1 pinch hot pepper (optional)
1 tsp tomato paste
¼ tsp sweet paprika
500 g potatoes, peeled and cubed small
salt / black pepper/ oil
water or stock
lemon (for garnish)
Shell and clean the vegetables. You can refer to this tutorial to find out how to clean fava beans.
Cut the artichokes in quarters.
Sauté the onion in the oil until translucent.
Now add in the fava beans, peas, half of the chopped parsely, coriander and mint leaves into the pan.
Add enough water to cover the vegetables - about 3 cups.
Simmer on low fire for about 15 minutes, until the fava beans are tender.
Halfway through the cooking, add the cleaned artichokes.
Now continue to simmer over low fire until all the vegetables are cooked to tender. Be careful that all the sauce doesn't reduce too much and become dry.
Once the sauce is reduced, the dish is don,e.
Once thepotatoes cooked, serve the dish hot.
Garnish with the remaining parsely and lemon wedges.
۞ Cook's note: If you use frozen peas in this dish, add them when you add the potatoes.
Let's keep in touch!

Sign up

for posts delivered right to your

e-mail

inbox or

subscribe

to my feed. You can also

'like' me on

Facebook

,

pin posts on

Pinterest

or

follow me on

Twitter

for all the latest recipes and updates.




share this post