بِسْــــــــــــــــــــــمِ اﷲِارَّحْمَنِ ارَّحِيم
السلام عليكم و رحمة الله و بركاته
Marhaba - Welcome! If you're new here, you may want to subscribe to my RSS feed, check out the Recipe Index.
Or follow me on the social network Facebook.
Thanks for visiting!
My kids love making dough. Dough of all kinds
bread
, buns,
pizza
, cocas and pasta regularly grace our table! A simple and trail tested savory yeast dough is essential I think for every cook. Not just the do everything from stratch cook but even for the busy pressed for time cook. Having a simple method for a savory yeast dough will not only save you time, money but will open the door to so many delicious opportunities.
Here's a really simple throw-together dough that's so versatile one could call it MAGIC. The ingredient list is super easy using all ingredients you can pronounced and already in your pantry in hear me out - ONLy 10 minutes! You heard me right - 10 minutes! No dodgy ingredients here!

The best part is, it tastes

amazing

and it's super versatile.

It That can be easily transformed into savory favorites like pies, breads, breadsticks, flatbreads, fatayers, buns, rolls, cocas or into even favories like tarts,pies, pastries and doughnuts. The options are endless!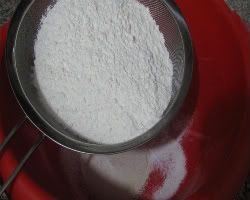 Start off by gathering the Mise en place (ingredients above).
Sift the dry ingredients

.



If you are using rapid rise instant mix yeast (like SAF) developing the yeast in water is not

necessary

. But if you are using compressed yeast or baker's dry yeast develop the yeast by adding it along with a pinch of sugar to the water. Wait for 2 minutes or until you see the yeast is foaming. If after 10 minutes, it's not foaming your yeast isn't good anymore.
Once the yeast has developed (if using compressed yeast or baker's yeast) add in the remaining ingredients and mix well.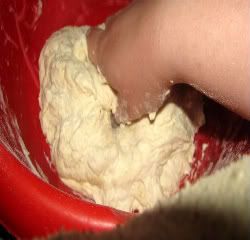 Knead the dough for 5-8 minutes by hand. Or if you are using a stand mixer using the dough hook run the machine for 3-5 minutes.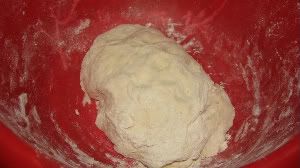 The kneaded dough will form a elastic, smooth but dense ball.
Now cover the dough with a kitchen towel and allow to rise. Rise time depends on what you want to use the dough for: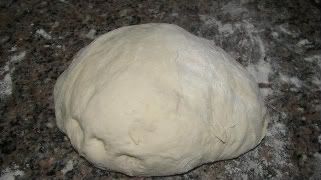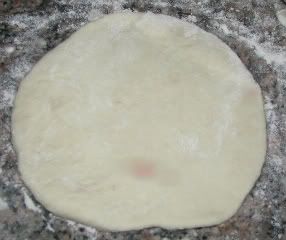 2 Sandwich loaves
Cut the dough in half and place into 2 greased loaf pans. Cover with a kitchen towel and allow to rise overnight in the fridge. Bake the next day in a preheated 220°C - 375°F oven.
3 large Pizzas or 6 Calzones or 6 Stromboli
Allow the dough to rise in the bowl for about 30 minutes, then simply roll out to make large circles (or) press the dough to fit the baking dish of your choice. This dough can easily make 3 thick crust pizzas enough for a family of 6. Or even more if you like your pizza thin.
4 Easy Baguettes
Divide the dough into 6 portions, roll out with a rolling pin to get a retangular shape. Roll the dough into the baguette shape. View this video for a guide.
24 Fatayers or buns
You can easily make Fatayer or

Araïche Salé using this easy all-purpose dough. For instructions

click here. Coacas can be made the same way but instead of folding the dough into 3s, fold only in half.
24 Hamburger buns or rolls
Allow the dough to rise for 30 minutes, then divde into 24 portions. Form into balls, then cover with a clean kitchen towel and allow to rise for another additional 15 minutes. Brush with egg wash, sprinkle with sesame seeds and then bake in preheated 181°C - 350°f oven for 20 minutes.