It being the month of Ramadan, one's mind may wonder to thinking outside the box ... outside of our little world, to the bigger world around us. Questions may arise, ideas on how others live ... what state the planet is in ... Here are some situations that have crossed my mind lately ... Maybe some of you have been thinking also.
What would you do if your grandmother (or any close relative) buys you clothes which you completely hate? Or perhaps it is against your Islamic dress code?
What would you do if you give a beggar some money, and then they ask for more?
What would you do if you met an orphan on the street who begged you to adopt them?
If you had invited someone to iftar dinner, and they were not happy with what you could offer?
As promised I will continue with bourek; my homemade dough version. And also include more ideas for fillings. This a simple and modest dough, which is ecomonical to make and so versatile. I use for savoury bites like bourek but also for making cornets and taco shells but also for sweets like samsa, cornets, and canollis. (For sweet version, simply add 1 TBS of powdered sugar to the dough, less salt)
For the dough, to make about 50 boureks (depending on the size you make) start out with about 2 cups AP flour, to which you simply mix in salt to taste, 1/2 cup room temp water and about 3 TBS vegetable oil. The dough is simple, not rocket science so amounts do not have to exact; just as long as you mix easily the flour with the water/oil so it is somewhat elastic and smooth.
Let the dough rest for about 30 minutes before using. This will allow the glutton to form, thus making it smoother dough to roll out.
If you want, you can also make up the batch of dough, freeze half or all of it for later use. To freeze at this stage, simply wrap tighly with plastic wrap then store in a container, so there is no freezer burn.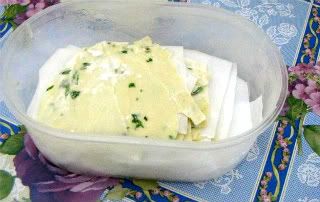 Once the dough has rested, roll it out with a rolling pin or even with one of those Italian pasta machines. Either method will work fine. Sprinkle flour generous over the dough as you roll it out. And be sure to not roll it too thin, else the dough will break when you stuff them. Thickness of 1/2 cm is fine.
Also at this stage, you could cut the dough into squares then sprinkle more flour over them and lay them between parcment paper for later use. Again to store, freeze them. And thaw out 30 minutes before using.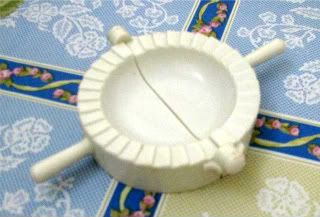 I have invested in one of these handy-dandy pasty makers. It has made bourek making easier ... and now even children love to make them, since they come out so pretty. Before I was crimping them by hand ... and well not all of them came out so pretty LOL!
To assemble them, just sprinkle more flour onto the past maker if you are using one, or onto your work board. Spoon little of the filling of your choice and fold over. I do not use eggs to bend the sides as water works as well for me with this dough. I only use eggs when using douel when I make sweet boureks. Other then that I do not bother.
Now you can either fry or bake them. Sprinkle salt on them as they come out. If you cook them up before hand, I recommend keeping them warm in a low oven, rather reheating them in a microwave. They tend to lose the crispiness in the microwave.
Bourek aux abats





250g mix of liver and heart (I would eat the liver but not the heart)
1 small onion
2 medium potatoes, boiled, cubed and mashed up
150g fromage rouge (Edam) or hard cheese of your choice
salt/black pepper

Mix together and spoon onto the dough.





Bourek au fromage et aux olive noires




200g fromage blanc (creme cheese)
100g black olives, pitted and choppred rough
handful of chopped parsely
2 eggs, beaten

Mix the ingredients together and spoon onto the dough then fold over.





Bourek aux fruits de mer




200g cocktail sized shrimp
100g mussels, chopped rough
200g calamaris
salt/black pepper
3 TBS bechamel sauce

Mix the seafood with the stiff bechamel then spoon onto the dough, then fold over.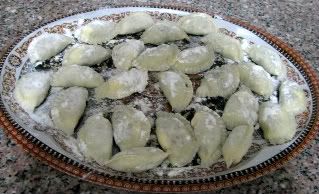 For day 3's suhour we had leftover sticky buns and bessousa with the usual coffee and cocoa.
For iftar, the omnipresent
chourba hamra aux m'katfa
(hand roll vermicelli pasta),
Mpiftekia

from beef using

Ivy's recipe
. I wanted to serve
courgette fritters
,
sauteed spinach
and
roasted potatoes
similar to what she presented but time did not allow me. I only managed to make a homemade version of ranch dressing and
tzatziki sauce
to go with the
Mpiftekia hamburgers
. And the of course served the last bit of
salade macedonie
with it also!
For dessert, I got off easy my dear husband brought
Qalb el louz
to graze on with tea after the meal.
Salade macedonie



This salad comes from a popular vegetable blend here called Macedonie which has green beans, peas, carrots, potatoes and corn in it.

For this salade, I simply cleaned, cut and cooked the above vegetables and 2 eggs to boil. Then mixed them, after they had cooled with mayonaisse, salt, pepper, parsely, squeeze of lemon (or vinegar) marjoram (fresh is the best here, but dry will work too) and pinch of sugar to balance out the acids.

Allow to melt the flavours overnight and serve cold.



Saha
ftourkoum
zine everyone!