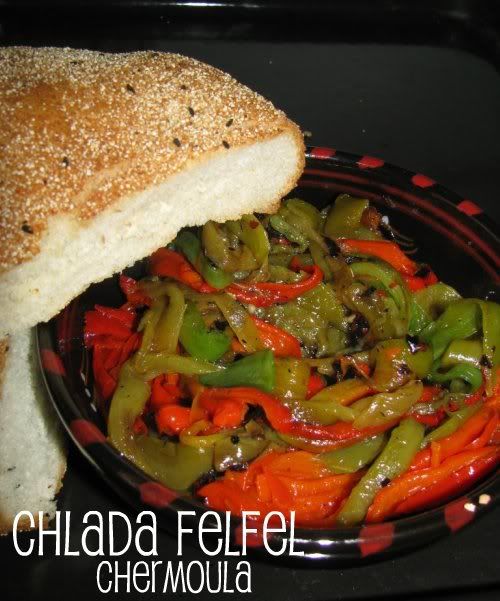 بِسْــــــــــــــــــــــمِ اﷲِارَّحْمَنِ ارَّحِيم
السلام عليكم و رحمة الله و بركاته
Peppers are one of my favourite vegetables. And as a Hungarian, there were apart of our daily diet: used to flavour sauces, in salad and many times eaten raw for dinner with a smörgåsbord of cold meats, cheess and pates.I still eat peppers pretty much daily ... still making little open faced 'soliders' (bite sized sandwiches) for my children.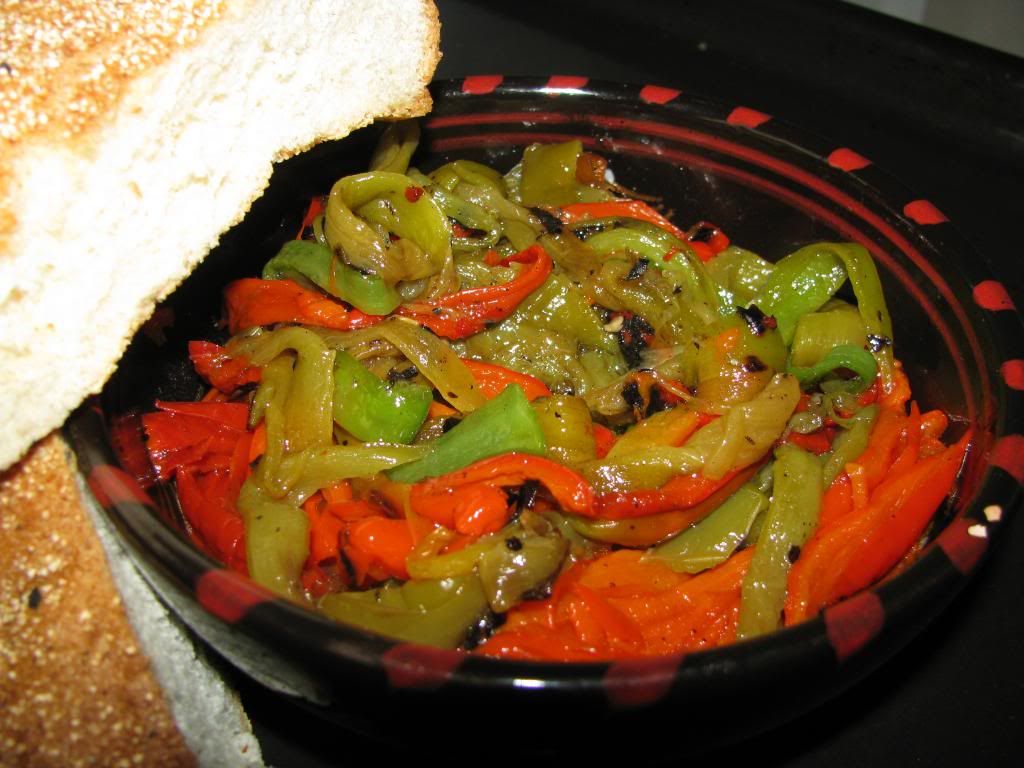 And here in Algeria, peppers ... the cubanelle pepper is prepared in several dishes like Chackchouka, Hmiss, Dolmas amoung others.
Today, I am going to share a salad - which I absolutely love!
It's called Chlada felfla chermoula or sometimes fefla. Chlada felfla chermoula is a summer salad made with tomatoes and peppers. It's eaten cold or room temp. And can be kept in the fridge for several days with a layer of olive oil on the top.
There is traditional salad here in Algeria called Hmiss, which is a pureéd salad with additional onion and garlic. Chlada felfla chermoula a simplyfied version of preparing Hmiss - since there is no mashing together to form a pureed sauce after the grilling.
This is way tastes great but me, personally I like the preparation of the region of Mostaganem in the western part of Algeria -- which does not puree the mixture. They grill the vegetables but to completely bury them in live embers, a process that cooks them evenly while imbuing them with a wonderful smokey taste. The scorched vegetables, whether grilled on the burner or cooked in embers, are then peeled and crushed one by one I feel this is the best way.This is the way I will share with you today!
This salad would make a perfect appetizer for a summer menu. But any other time of as well. Serve with warm bread or Khoubz F'tir (click here) as an appetizer. You could also serve it as a main-course salad with tuna, olives, hard-boiled eggs and pickled lemons as they serve Mechouia in Tunisia. This salad is best if you prepare it the day before, to allow the flavours to develop.
Chlada felfel chermoula à la Mostaganémoise
6 peppers (red and green) about half kilo

1-2 hot peppers

3 TBS olive oil

1 TBS lemon juice

handful of parsley and cilantro, chopped

salt/black pepper
Wash the peppers very well.

Cut a slit in them and add a bit of salt inside.

Mash the cloves of garlic into a paste in a mortar and pestle.

Chop the herbs very fine and add into the garlic.

Season with lemon juice, olive oil, salt and pepper.

Grill the peppers over an open flame until chargrilled throughly.

Once chargrilled place in plastic bag.

Repeat with all the peppers.

Once you have finished all the peppers, scrap off the skin.

And slice the peppers into long thin strips.

Mix with the chermoula dressing.



Serve with plenty of warm tadjine bread. Eggs, tuna and fritte (fries) are common accompaniments.