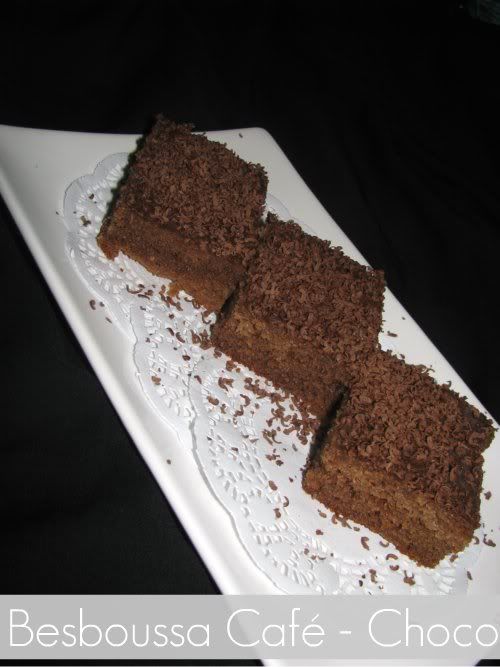 بِسْــــــــــــــــــــــمِ اﷲِارَّحْمَنِ ارَّحِيم
السلام عليكم و رحمة الله و بركاته
Just a few days and Eid al Adha, I am sure many of you are preparing for this great holiday. Today, I present a new version of a Middle Eastern/Mediterranean favourite. I first saw this on
Sihem's blog
. I liked the idea, but I forgot towrite down the recipe. So when I was in the kitchen, I improvised by tweaking my own using my (orginal) Besboussa recipe
(found here)
۞ This cake has literally a 1000s of name. It is is also known Halva de semolina, Cream of wheat cake, Namourrah, Namoura (spelling differently), Baseema,
G
âteau de semoule,
I
ishpishti,
Chama
li,
Hareesa
, Revani, even Khoubz Dzairi (in Algeria where I live).
Besboussa Café - Choco
4 eggs
250g - 1 cup sugar
250mL - 1 cup oil
250g - 1 cup milk
470g - 2 cups medium grain semolina
15g -2 TBS flour
10g - 2 tsp baking powder
15g - 1 TBS instant coffee or espresso powder like Nescafé
30g -2 TBS cocoa powder
60g - 4 TBS desiccated coconut
Decor:
Syrup:
350mL - 1 1/2 cups whole milk
160mL - 2/3 cup sugar
45g - 3 TBS butter
5g - 1 tsp vanilla (or 1 packet of vanilla sugar)
Heat the milk slightly, enough to desolve the coffee powder and cocoa. Set aside to cool.
Beat eggs and sugar with a mixer until creamy.
Add the oil in.
Now add the milk mixture, salt, baking powder, semolina and coconut and mix well with a spoon.
Pour this mixture into a buttered pan.
Place in oven preheated to 180° and bake 30 minutes.
In the meanwhile, make the condensed milk syrup, by blending all the syrup ingredients in a blender.
When it is baked, but still hot, pour the syrup over the Besboussa.
Allow to cool for at least 1 hour, before cutting.
Cut into squres or diamonds, then grate the chocolate over the tops before serving.