بِسْــــــــــــــــــــــمِ اﷲِارَّحْمَنِ ارَّحِيم
السلام عليكم و رحمة الله و بركاته
Winter and during the month of Ramadan, our daily meals are based around traditional Algerian soup,
chrouba.
And with it traditionally bread and a finger food like bourek is served. Bourek can be quite so I try to change it up with various other little bites.
Zata'ar fan
tans are one such little bite that I came up with to serve with soup. Zata'ar fan tans are fan shaped buns that filled with homemade cheese and herbs. Please try these out for your family this Ramadan enchallah!
dough -
3 cups whole wheat flour
2 cups of white flour
about 2 cups of warm water
1 TBS instant dry yeast
1/4 cup olive oil
honey
2 tsp zata'ar or Herbes de Provençe
filling -
200g homemade pot cheese or feta
black olives for decor
1 tsp garlic powder
1 tsp zata'ar or Herbes de Provençe
sesame seeds
olive oil for browning
Simply add all the dough ingredients into a large bowl or into a bread machine or stand mixer to combine.
Knead the dough for about 5 minutes or set the bread machine on dough/pizza setting.
Once the dough is well kneaded brush some olive oil on the top of the dough.
Cover with a clean kitchen to rise. If you are using a bread machine, then once the cycle is complete the dough should be ready for shaping.
Once risen, roll out the dough to 1cm retangle.
Cut the dough into 3cm equal retangles.
Sprinkle the filling over the retangles.
Now stack 4 on top of each other then fold in the middle to form the fan.
Place into a buttered muffin tin.
Brush with olive oil.
Sprinkle with more zata'ar, sesame seeds and place an olive in the middle.
Cover with clean kitchen towel and allow to rise for 30 minutes.
Bake in pre-heated oven for 30 minutes or until golden.
For more on how to shape the fan tans please see
this link
Please visit Soulef's blog for the round-up and so many delicious recipes.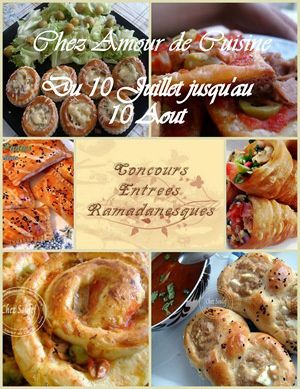 !