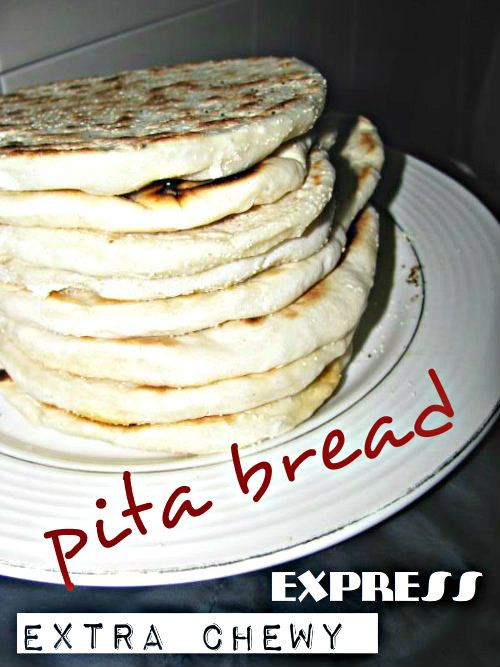 بِسْــــــــــــــــــــــمِ اﷲِارَّحْمَنِ ارَّحِيم
السلام عليكم و رحمة الله و بركاته
Marhaba - Welcome! If you're new here, you may want to subscribe to my RSS feed, check out the Recipe Index. Or follow me on the social network Facebook. Thanks for visiting!
PLEASE NOTE: I've had a relatively large response to the pita bread in my Egyptian Red Lentil Soup post. I thought I'd revisit this bread and update with newer and better photos.
Pita bread ... as it is commonly known around the world is the most unadorned and simplest to make bread around that dates back to ancient times. Pita bread is an even better invention than sliced bread. It is no wonder that this round pocket bread has been a staple of the Middle East for 4,000 years. In fact, pitas have been both a bread and a utensil throughout the Middle East and Eastern Mediterranean serving the function of loaves of bread in wheat centric areas of Europe, Africa and Asia.
From what archeologists can determine, the pita originated with peoples west of the Mediterranean. It is not perfectly clear if it was the Amorites or the Bedouins were the inventors. Both the farming and desert society respectively adopted pitas as their own. Soon, its popularity spread as the Bedouin peoples traded and travel across the Arabian and Sahara desert.
Originally, the pita was a combination of dough that was let to sit and collect yeast and fresh dough until the discovery that brewers yeast works. In the Middle East, It is still often made in a backyard stove compared to the store-bought pitas that have spread all over the globe.
But the history of pitas can only really be appreciated through the taste. The pita though has to be tasted with all the different foods that thrive in or enwrapped by pita. And then you will understand that sliced bread is the best invention since pita bread.
It is a rather simple bread that could be made with limited technologies. You simply roll out your favorite non-enriched dough as thin as possible and bake it on a tadjine, cast iron pan or even grill pan.
There is minmial resting time, so you put it together in a matter of moments. Despite its simplicity pita is one of the tastiest breads ever made, too. Perhaps it is all of the surface area and the soft chewy crumb?
Pita is really a great make-ahead bread. You can prepare the dough through the first rise, and then keep it refrigerated for up to a week. The flavor will actually improve with time! You can bake the whole batch at once or cut off just what you need to make one or two flatbreads at a time. When you're ready to bake, cut the dough into portions, flatten them slightly, and let them come up to room temperature before baking. Real simple huh? This blog is not called Simplicity for nothing!
The yoghurt is what makes this bread so soft and chewy ... plus it adds a slight tangyness to it ...This is a Greek style pita bread so it's pocketless. If you're looking for a pita bread with a pocket, consider looking into this recipe that I hightly recommend.
Let's keep in touch!
Sign up
for posts delivered right to your
e-mail
inbox or
subscribe
to my feed. You can also
'like' me on
Facebook
,
for all the latest recipes and updates or pin along with me
on
Pinterest
.
2 cups AP flour
1 cup wheat wheat flour
2 tsp instant yeast
2 tsp salt
pinch of sugar or spoonful of honey
1 pot of natural yoghurt (90g)
1 cup +/- of warmed water
handful of nigella seeds (optional)
semolina (large or medium grained) or cornmeal for the work board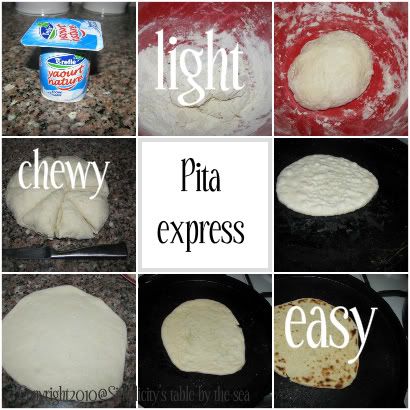 Sift the flour and place into a large bowl.
Make a well in the center of the bowl and simply add in all the ingredients except the water.
Mix together, then slowly and gradually add in the water to form a soft dough. Stop adding the water when it reaches the right consistency.
Knead for about 5m - a few good turns is enough. The dough ball becomes really smooth and 'bouncy'.
Cover and allow to rise for 5m.
Then divide the dough into 8 portions.
Form balls that are about the size of a mandarin orange.
Then flattened into your deserved thickness. For me about I like mine about 10cm round. No need to rest again since by the time you flattened all the balls, the first ones will have rested enough to be baked!
Coat the bread on both sides with the semolina or cornmeal.
Bake on a hot ungreased cast iron pan or tadjine in the oven or on the stovetop. Alternatively you could grill the pita breads.
Place a large glass lid over the bread, so that it will steam for a few minutes. This process will yield you a chewy crumb. About 4 minutes is enough on both sides
Fun Pita Factoid: From Wiki
Pita is "bread" in Aramaic. When Jewish immigrants from Eastern Europe came to Palestine in the 19th century, they needed a different word in Hebrew for the Arabic bread, simply called "bread" (khubz) by the local Arabs. Today, this type of bread is known as pita or kmaj or khoubz.
.
Size- Wise
You can easily make individual besboussas by filling cupcake tins with the batter.
Subsitute
Subsitute cornmeal (semoule de mais) to make this dessert gluten-free.
Variation
Besboussa is very versatile dessert that you can easily change but adding various flavouring ingredients such as orange, lemon, coconut, chocolate or even nuts.
bread, Medtierranean