Greetings all my friends out in the Blogosphere!
Eid el Kebir has come and gone ... But I have been very busy with this little guy over here <- and we all had gotten the flu so we were getting over that. So today I would to share little of our holiday here (thou a bit late)!
We shared most of the meat with family, friends and some less fortunate as customary ... but we are still up to our eyes with mutton! So what to do with all that meat? Sometimes I think it can be rather tricky to figure that out ... For my husband he loves his mechoui (grill) but one can only eat so much ...
For my family, this year was the first sheep we have slaughtered in Algeria ... and actually a first I have done from start to finish ... so it was a real learning experience for me all around!
Today, I would like to share some scences of our Eid el Kebir ... but also some info on mutton, also some ideas for preparing it and making the most of it enchallah!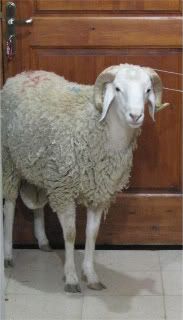 Our sheep from the start I think he knew what was coming to him poor thing as he was just shaky all the evening since he was brought to the house.
Some time later, after the slaughter ... some time for the sheep to 'rest' and allow all the blood to drain out. We hung it up ... then started to crave away! Even my daughter, who BTW is not a scared child but very interested in all learning opportunties (esp when involving animals) helped us out!
We kept half for ourselves; other was given away. Then the big chore of cutting the large pieces into more managable morcels began!
Arms got very sore but overall worth it!
After this experience I was more familar with all the whole process of slaughtering and butchering a larger animalMy family when I was younger were slaughtering chicken, ducks and geese but compraing to this ... it was little different! My children (the older one) is now known familar with what we are eating (thou she is almost a vegetarian ..; I think this is just a stage she is at ... ) I am thankful for the experience ... something we did together as a family, was able to share something good with those less fortunate and culinary-wise was good thing since this c omes in handy when cooking the various cuts of meats.
Here is a picture of the various cuts

Living in Algeria traditionally after the sheep is slaughtered the innards are taken out ... cleaned of course ... then in my husband's family for lunch the liver, heart, kidneys .... and yesss even the testicles are cooked up on the grill. I did not pretake in the testicle eating but I was assured they are excellent! LOL! (Other familys may cook up the liver in kebda chermoula dish, which is basically livers cooked in a chermoula sauce) After these organs are eaten ... the lungs and intestines are used to make Osbane, a traditional dish of stuffed tripe made from the slaughtered mutton of Eid el Kebir.
Another traditional dish using the tripe is Tkalia ou douara or tripes and heart. For this recipe plz refer to Fatizo's blog Darna.
Finally, the head is not wasted but used to make yet another traditional dish called Bouzellouf Chtetha ... for a video on how to prepare this dish plz refer to this video! It is long process ... no wonder I have never done it! LOL!
Méchoui: A

lgérienne grillade
1 kg cutlets (lamb chops)

salt/black pepper

1 TBS olive oil

1/2 tsp each of cumin, dried thyme, coriander,cinnamon, herbes de provences , saffron powder, dried minced onion, paprika
Clean and then dry the meat.

Rub the meat with the spices and allow to absorb them for at least 30
minutes.

Now you are ready to grill the meat!
AEAGAN LAMB SHANKS - This dish I have called Aeagan lamb shanks since I ate in a resturant in Tolo, Greece back in the late 90s called the Aeagan ... It was so excellent ... I remembered the flavour for years ... and have tried my best to recreate it!
4 lamb shanks)
1 large onion, finely chopped
1/2 cup balsamic vingaer (not very Greek but adds nice sweetness like wine would, omit if you like)
2 TBS tomato puree
olive oil
1 bay leaf
1 pinch cinnamon
2 pinches of oregano
Salt/ black pepper
cube of sugar (depends on the sweetness of the tomatoes)

Heat olive oil in a pot and saute the chopped onion, the and the lamb.

Let the meat take a brown.
Now season with salt and pepper, and add the bay leaf and the cinnamon.

Finish roasting by pouring the balsamic and let it evaporate by letting it boil for a while.

Add the tomato paste.

Pour some water and let it cook for 1 hour in 150 C until the sauce thickens.

I serve this orzo but also with roasted Algerian style (with fritte - french fries) placed right in the gravy. Also good with rice.