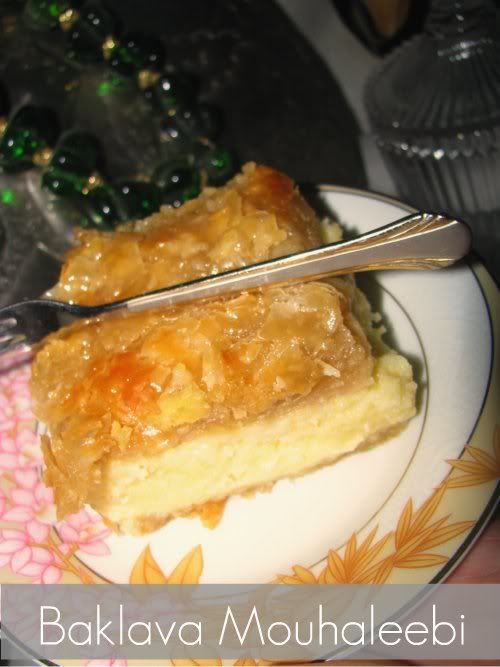 بِسْــــــــــــــــــــــمِ اﷲِارَّحْمَنِ ارَّحِيم
السلام عليكم و رحمة الله و بركاته
. Baklava Mouhaleebi is one my favourite honeyed syrupy desserts. I love to serve this during
Eid al Adha as it's really has the WOW factor.
Baklava Mouhaleebi is a Mediterranean sweet which translates literally to "milk pie". It is a semolina custard between layers of phyllo pastry and soaked in a syrup. It is known as the Galakotouboureko or "cream baklava" or even "king of sweets" in around the Mediterranean in countries like Bosnia, Greece, Macedonia, Turkey and the Levant area of the Middle East. In the Greek name Galakoboureko, Gala means milk in Greek and boureko the Turkish word refering to something wrapped in phyllo dough.

In the Mediterranean/Middle Eastern dessert family, Baklava Mouhaleebi is like Baklava's little brother: lighter and lesser known in the world, but actually more prized for its combination of soft custard and crisp phyllo in Greece. It's a food steeped in Greek history. As far back as ancient times, a barley pudding sweetened with honey was consumed -- much like galaktoboureko in the time of the Byzantines.$
This is a special dessert made usually during
Ramadan
in Turkey, Bosnia and around the Levant, as this dessert makes a great impression.
Baklava Mouhaleebi
custard:
- 4 eggs
- 1 teaspoon vanilla
- 6 cups milk
- 2 tablespoons unsalted sweet butter
- 1 1/2 cups sugar
- 1/2 teaspoon lemon extract
- rind of 1/2 lemon
- 1 cup large grain semolina

syrup:
1 tablespoon lemon juice
juice of 1 orange
1 cup water
1/2 cups acaica honey
1 whole cinnamon stick
zest of 1 orange
pastry:
12 sheets phyllo dough - commerical or homemade
1 cup - 250g melted butter for brushing phyllo
For the custard:
In a small bowl, beat the eggs with vanilla extract and set aside. Then, in a pot, add milk, butter and sugar, using a wire whisk. Stir and bring to a boil. Turn heat down to medium and add lemon extract and lemon rind. While continuing to stir with whisk, slowly add farina. Continue to cook and stir until mixture thickens (about 3 to 5 minutes). Remove from stove and mix in the beaten eggs. Let cool for about 10 minutes.
To make syrup:
Place all ingredients in a pot, bring to a boil and let cook for 15 minutes. Remove from heat and remove cinnamon stick.
Spread half the phyllo sheets on the bottom of a retangle pan, leaving some hanging over the edges. Coat each sheet with melted butter. Then pour the custard in the pan, fold over the sheets and continue to coat with butter and layer the remaining sheets. Make several slits on top layer - not cutting to the bottom.
Bake at 350 degrees for about 35 minutes or until golden brown. Let stand for 10 minutes and then, with a ladle, pour syrup on top. Sprinkle with cinnamon. (If your custard is warm, your syrup must be cold.) Cut into squares or diamonds and serve warm or cold.
If desired, you may also drizzle honey on top.