Greetings all my friends in the Blogoshpere!

Gâteau au Yaourt or yoghurt cake is a staple in French home baking. It is known as aMouskoutchou cake here in Algeria. It is the simplest cake to make since pot de yaourt (a container of yoghurt), emptied and cleaned is used to measure out the rest of the ingredients.

I find it an excellent fun ... and tasty to make with my children! it appeals to them, much with its moist and fluffy rumb! And what child cannot enjoy a cake that they (with the exception actually putting it in the oven) can measure, mix and pour all themselves! There are no complicated steps, no scales to dig out of the cabinets. And with the intensive sandbox training they have, they are real experts at the completely emptying and filling of the yoghurt containers.
Superb I'd say!

The
Gâteau Danette au chocolat noir
that I posted about a while ago, is based on this exact idea of measuring by volume not weight.

The basic Gâteau au yaourt recipe or method(which I will post about in depth at later date) is a building block to a lot of great variations. You can add chocolate, cocoa, chocolate chips, nuts, citrus juice, zest, or peel of any citrus fruit! Whatever floast your boat!
Today, I present the yoghurt cake ... a real chocolate cake from your childhood ... but all grown up!

The frosting is really not sweet at all, it has a nice intense espresso flavor, almost a bit bitter, so if you like coffee, you'll like these... if you want total sweet... I would adjust the amount of powdered sugar!
Mouskoutchou
Mocha
(Makes one 20cm round cake or 12 cupcakes)
° Use the emptied container of youghurt for measuring
- 1 container of plain yoghurt
- 1 pot oil
- 2 pot sugar
- 3 pot flour
- 3 eggs, beaten
- 1 packet of vanilla sugar
- 2 packets of Algerian baking powder (or 1 packet European11g)
- 1 tablespoon of instant espresso powder dissolved in 1 tablespoon of hot
water. (Or 1 tablespoon of hot coffee)
- 1/2 cup cocoa
- 250 g bar of very good quality dark chocolate melted
(for me Cote d'Or chocolat noir
Frosting:
- 1 cup cheese tartiner (Vache qui rire or LeBerbere)
- 1/3 powder sugar (if you like more sweeter frosting add 1 cup of powder sugar)
- 1 teaspoon instant espresso desolved in 1 t easpoon of hot water or. Or 1 teaspoon of hot coffee
Preheat the oven to 180.
Spoon the yogurt into a large bowl.
Add the oil, eggs, vanilla and sugar. and begin mixing.
Sift the flour, cocoa and baking powder.
Slowly add into the bowl and mix well.
Stir in the by now (cooled) melted chocolate and coffee .
Pour the batter into into a greased and floured cake pan. or paper lined cupcake tins (fill 2/3 of the cup).
For cupcakes, bake 15-20 minutes, until a toothpick inserted in the center comes out clean.
For cake, bake for 15 minutes at 180C, then reduce to 150 and bake a further 20-25 minutes. Again, check for doneness by inserting a clean toothpick.
Meanwhile, whip the powder sugar, coffee and cheese tartiner until creamy.
After the cake has cooled, spread the frosting over the top of the cake.
Sprinkle over the frosting, shaved chocolate or crumbled dry cookies.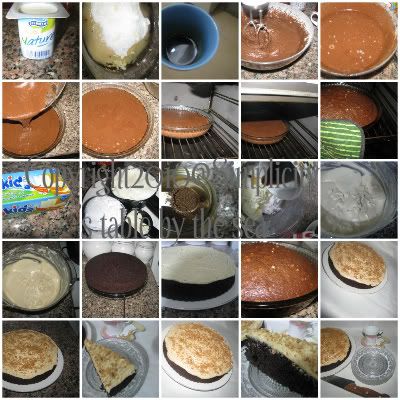 Elhamdulillahillazee at 'amanaa wa saqaanaa wa kafaa naa wa awaa naa
I pray to you all bon appetite and always warmth of blessings around your table!
heni